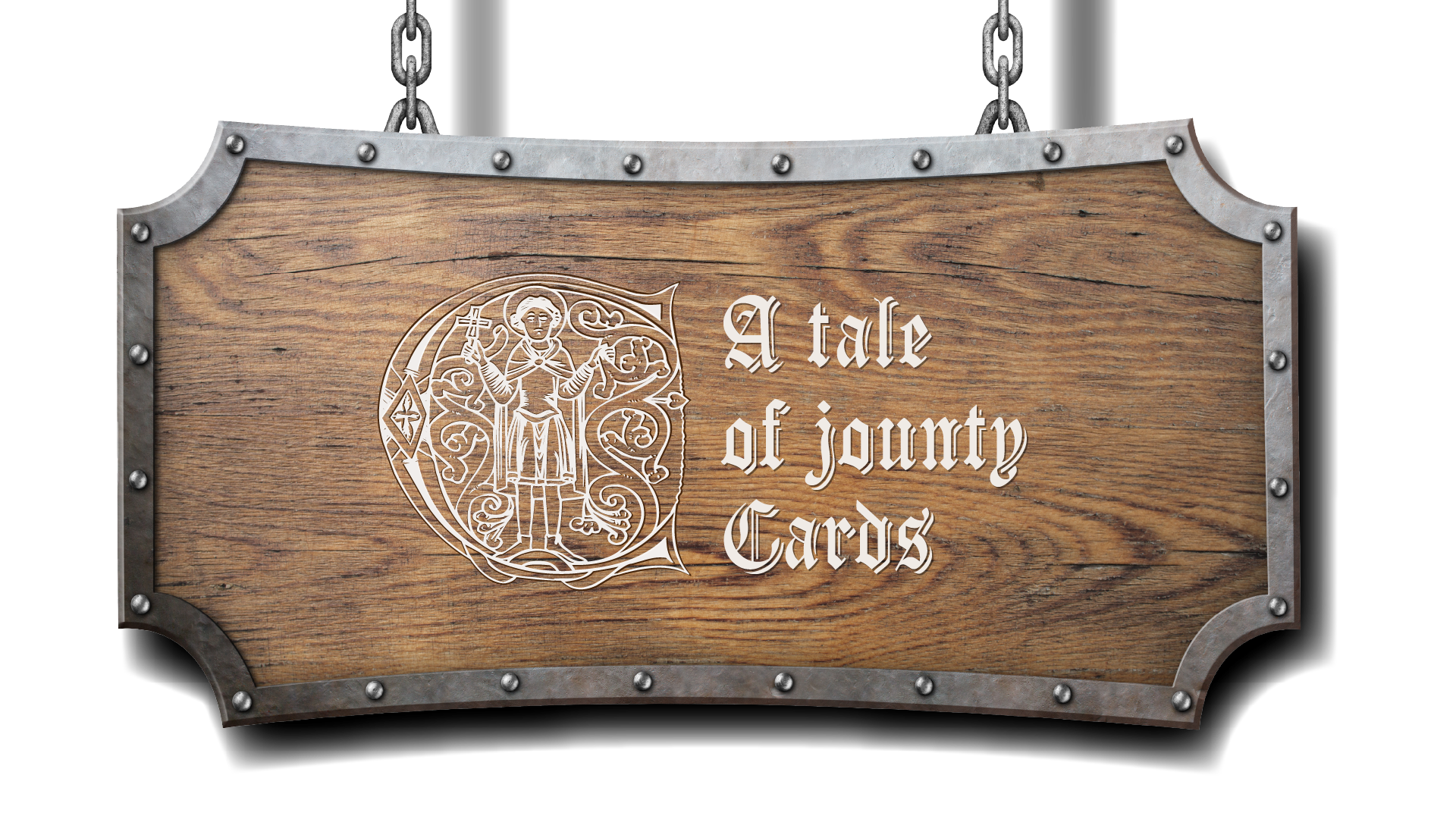 A Tale of jaunty Cards
A Tale of jaunty Cards
This game is a narrated rogue-like dungeon crawler cardgame that is set in medieval times. (With the possibility of converting it into an analogue game)
Story:
Inhabitants from the medieval city of Rothenburg are seeking eternal fame and glory. They want to achieve this by exploring the dungeon from a seemingly abandoned castle near the city. However, the dungeon is owned by a lady who is not amused with their attempts to seek glory because they are ransacking her beautifully organised basement. Your goal is to guide one of these inhabitants to the end of the dungeon and hopefully amass enough Hero Points to be remembered for eternity.
How to play:
Drag an drop your hero card onto the next pile of cards. Your hero can move up, down, left or right onto the next pile of cards. This is also how far he can see, all cards outside the vision radius of the hero are being flipped over.

Your hero has four stats:
Green: Attack
Blue: Armor
Red: Health
Yellow: Hero Points (The honor your hero gains by defeating monsters or participating in events)
These stats decrease or increase by picking up items or fighting against monsters. Defeated monster cards and picked up item cards are discarded and the next card on top of the card pile is revealed. You need to find the gate to the next dungeon floor to progress further. Remember, you always strike first, so think ahead. Good luck!
The folks:
Daniela Meinhardt (Art & Idea)
Fabian Schober (Implementation & Management)
Guido Prodnik (Game Design & Organization)
Peter Hafele (Sound & Music)
Regina Steinberger (Narration)
Download
Download
Web - Game Jam Presentation Version
39 MB
Comments
Log in with itch.io to leave a comment.
my high score is 825. What's the highest score possible?
That etntirely depends on the RNG. For the jam, we just used a weighted random sample of cards (like 50% enemy, 20% events, 20% upgrades, 10% traps). But 825 is quite impressive, most players got around 600!
Fun but wins need more payoff
True that!

We initially planned to use the parchment paper to the left of the board as a kind of character sheet for progression. Including level-ups (just for progression, no stat changes), a simply illustration of the character (what weapons you carry and what afflictions you may suffer from) and a recap of visited cards and killed monsters.
But we didn't have the time to build all that, so we focused on bringing all the stuff our team members build into the game (audio & music, narration, art, ...). :)